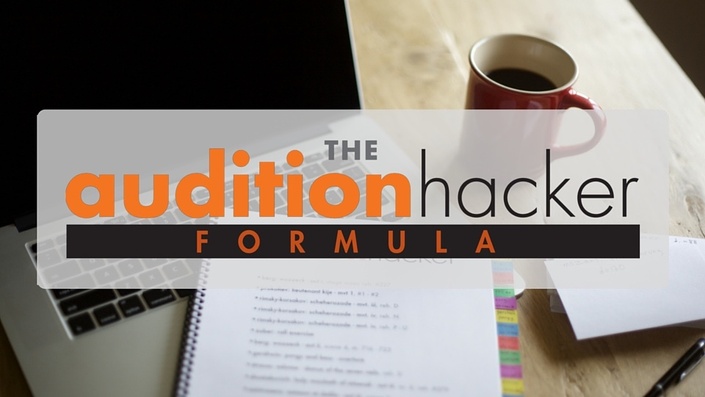 the auditionhacker formula
the step-by-step audition preparation system, from the moment you get your repertoire to the last note of the final round.
enroll now >>
do you shed your excerpts into the ground for long hours in the practice room, but for some reason at the audition you sound like a middle schooler?
do you show up 100% ready only to totally freeze up the moment you stand in front of the audition panel?
have you read so many rejection emails that you're just SO DONE?
and after dedicating all these years to your instrument only to find out again and again that you're right back where you started: a student, no job, no income...
...haven't you had enough?

welcome to the auditionhacker formula, an online training course designed to help you dominate auditions.
the auditionhacker formula is a complete blueprint for audition preparation.
through 8 core modules, it lays out an assembly line for your excerpts that you can apply directly to your own audition preparation, regardless of what instrument you play. it's the exact, proven process that rob used for his winning MET orchestra audition.
this preparation system is a series of steps designed for anyone to achieve three main goals with their auditions:
1. methodically answer any objection that the audition committee could possibly have,
2. impress the committee with musicality and phrasing that are deeply ingrained into the excerpts, and

3. become so absurdly overprepared that you have endless confidence and zero nerves on audition day.
"This is the knowledge that doesn't really fit in a college or grad music program (and I went to Indiana, a great school) but that students are always looking for. It's never covered in lessons where rep, musicality and technique are always the focus.
"I would highly recommend the course to anyone taking a professional or festival audition. These are the steps needed to win an audition for something with clout (professional orchestras, tanglewood, NOI, Pacific, Schleswig-Holstein). This is the class that every music student wants, but is never taught. Every step is explained in great detail, and he lays out the path of what it takes to win an audition. It has helped me a great deal in gaining the most from my practice time"

- Matt Robotham, Percussion, U.S. Army Bands
As many musicians on the audition circuit know, sometimes it is difficult to know if the work you are doing on any given list is the 'right' type of work. With the AuditionHacker Formula, Rob lays out exactly what type of work you should be doing and gives you a timeline in which it should be completed. For me that was immensely helpful and took out all of the guesswork in preparing for auditions. With the help of Rob's AuditionHacker Formula, I was able to secure a finalist spot with the New World Symphony. Thanks, Rob!
- Alex Jenkins, Double Bass and Finalist, New World Symphony
Your Instructor
about
i'm rob. i won my audition in the MET orchestra in 2011, and i've been happily playing percussion there ever since. before that, i studied at juilliard and played in the new world symphony in miami beach, florida.
since winning the met audition, i focused my energy on educating others on how to take auditions. through the auditionhacker academy, my goal is to help you get where you're going quicker and smarter than i did.
here's what you'll build:
a complete, end-to-end audition preparation process that you can count on.
by the end, you're going to know exactly what to do, when to do it, and how to do each thing. every module includes guiding principles, setup and organization instructions, and action steps for each thing. you're going to understand where the holes were in your previous process and you're going to know exactly how to address the biggest weaknesses in your auditions.
confidence and nerve-conquering systems.
nerves stem from fear of the unknown, from worrying that you're under-prepared, or worrying that something is going to go wrong in your audition. this process is going to leave you so absurdly overprepared and comfortable with the experience of auditioning that nerves are going to be conquered or minimized at every step along the way.
here's what's included:
- immediate access to the complete auditionhacker formula training course.
- the 8 modules are available to watch from your computer, tablet, or phone. anytime.
- 120+ videos that make up the course. (see the curriculum below!)
- a bunch of incredible add-ons that i've created to help you take these concepts, understand them inside and out, and bring them to your practice room.
Course Curriculum
module zero: introduction and how to tackle this course
Available in days
days after you enroll
module two: the daily practice session
Available in days
days after you enroll
bonus #1: the auditionhacker workbook
this workbook includes everything you need to be super successful at absorbing and retaining the information in the course, along with what you're going to need throughout your actual audition prep:
1. a 12-page workbook that you can use to follow the course, take notes, and bring it to the practice room,
2. a scheduling template to get you started in module one,
3. an excerpt research template that you can just duplicate and fill in for each one of your excerpts for module 4, and
4. my mock audition spreadsheet to track excerpt progress in an incredibly efficient and useful way during module 7.
bonus #2: auditionhacker formula community
this is a place where you can talk strategy with other students enrolled in the course. i'm not inviting your teacher, i'm not inviting any other friends, and no one's going to be allowed to advertise in here. this is ONLY for auditionhacker formula mastery students to talk strategy and ask questions. and I'm going to be in there all the time answering questions, chiming in, trying to address anything i can, and just going to town geeking out about audition preparation methods.
bonus #3: the 'watch me work' collection
i didn't just want to tell you how to learn notes and record yourself. i want to show you how i do it, too, so that you can understand the thought process behind every step.
i chose an 8-measure excerpt of a bach violin sonata and went through an entire note-learning and self-recording phase. there's video from 3 angles, and when i'm self-recording i include a screen video of my computer that i'm using to record. you'll understand exactly how to follow the instructions laid out in modules 5 and 6 in the practice room, and i stop along the way to explain every little detail of what i'm doing.
Frequently Asked Questions
when does the course start and finish?
the course starts now and never ends! it's a completely self-paced online course - you decide when you start and when you finish.
how long do I have access to the course?
how does lifetime access sound? after enrolling, you have unlimited access to this course for as long as you like - across any and all devices you own.
what if I am unhappy with the course?
we would never want you to be unhappy! if you're unsatisfied with your purchase, contact us in the first 30 days and we'll give you a full refund.
does it work for every instrument?
absolutely. the entire course is instrument-nonspecific. it's based on processes that involve research, self-recording, practicing with the metronome, and doing mock auditions. none of it will be specific to my instrument, which is percussion. i might use a percussion example every once in a while to explain something, but i'll always remind you to fill-in-the-blank with your own instrument. in fact, the course has already been taken by several string and wind players in the beta test. scroll down to read some of their experiences.
"I am very, VERY impressed with the well-thought out layout of the course. It truly offers a step-by-step tutorial on what to do from the moment that you get the list to the moment you step off the stage."
- Margaret Shin Fischer, Flute, Dallas, TX
"An extremely thorough approach to preparation of assigned music. I recommend Rob's system to anyone from the college/conservatory to professional level that wants to improve their audition organization, preparation and performance"
- Justin Kujawski, Double Bass, Bloomington, Indiana
"It is very useful information, it's clear and methodical, and it would benefit everybody, whether or not preparing for an audition. It would improve everyone's musicianship."
- Samuel Marques, Clarinet, Portugal