bonus #1: the auditionhacker workbook
this workbook includes everything you need to be super successful at absorbing and retaining the information in the course, along with what you're going to need throughout your actual audition prep:
1. a 12-page workbook that you can use to follow the course, take notes, and bring it to the practice room,
2. a scheduling template to get you started in module one,
3. an excerpt research template that you can just duplicate and fill in for each one of your excerpts for module 4, and
4. my mock audition spreadsheet to track excerpt progress in an incredibly efficient and useful way during module 7.
bonus #2: auditionhacker formula community
this is a place where you can talk strategy with other students enrolled in the course. i'm not inviting your teacher, i'm not inviting any other friends, and no one's going to be allowed to advertise in here. this is ONLY for auditionhacker formula mastery students to talk strategy and ask questions. and I'm going to be in there all the time answering questions, chiming in, trying to address anything i can, and just going to town geeking out about audition preparation methods.
bonus #3: the 'watch me work' collection
i didn't just want to tell you how to learn notes and record yourself. i want to show you how i do it, too, so that you can understand the thought process behind every step.
i chose an 8-measure excerpt of a bach violin sonata and went through an entire note-learning and self-recording phase. there's video from 3 angles, and when i'm self-recording i include a screen video of my computer that i'm using to record. you'll understand exactly how to follow the instructions laid out in modules 5 and 6 in the practice room, and i stop along the way to explain every little detail of what i'm doing.
bonus #4: the no bullshit bundle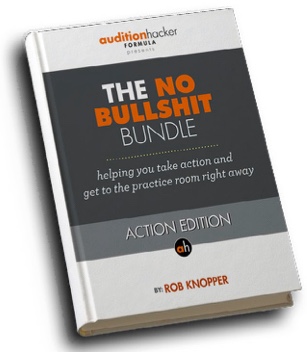 in order to start preparing for auditions, we have to get you into auditions. that means passing the resume round, the tape round, and powering through every other annoyance that pops up along the way.
this bundle is designed to get you past the BS and dive into the practice room quicker.
the 'no bullshit' bundle is a set of tools that you can use to quickly learn every supplementary skill you need in order to get past the boring stuff and practice.
a collection of quick-start guides for making audition tapes, creating a resume, how to practice sight-reading, and more
a resume template so you can have a fully prepared resume in less than an hour
pre-worded emails that you can send directly to the personnel manager for a variety of situations, like to ask about an error in the provided music
a copy of my successful MET audition tape that you can reference in order to achieve a high level audition tape of your own
bonus #5: personal mock audition evaluation

you need to do a ton of mock auditions. for the best musicians you can find. (you'll see in module 7.)

record yourself playing a mock audition, send it to me, and i'll give you a full detailed response with comments, thoughts and suggestions about your playing and suggestions for next steps.